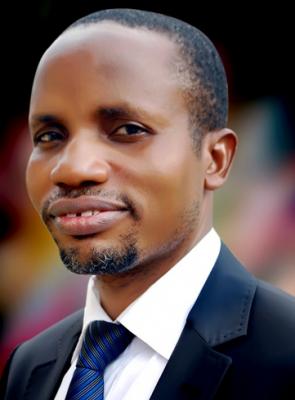 Prof. Oguntola Jelil ALAMU B.Tech., M.Sc., Ph.D
Email: vc@uniosun.edu.ng, alamuoj@uniosun.edu.ng

Oguntola Jelil ALAMU is a Professor in the Department of Mechanical Engineering of Osun State University, Osogbo, Nigeria. He is a native of Iwo in Osun State, Nigeria.

He obtained B.Tech. degree in Mechanical Engineering at the Ladoke Akintola University of Technology (LAUTECH), Ogbomoso, Nigeria in 1998, M.Sc degree in the same discipline at the University of Ibadan, Nigeria in 2001 and a Ph.D degree in Mechanical Engineering (Energy Studies and Renewable Energy) at LAUTECH, Ogbomoso, Nigeria in 2008.

He is a member of notable professional organizations including Council for the Regulation of Engineering in Nigeria (COREN), Nigerian Society of Engineers (NSE), Nigeria Institution of Mechanical Engineers (NIMechE), Nigeria Institute of Management (NIM), Council for Renewable Energy in Nigeria (CREN), Committee of Deans of Faculties of Engineering & Technology in Nigerian Universities (CODET) and African Wind Energy Association (AFRIWEA).

Professor Oguntola Jelil Alamu has eighteen (18) years of teaching, research and administrative experience in Nigerian Universities. He has taught, supervised and examined students at undergraduate and postgraduate levels at LAUTECH, Ogbomoso, Olabisi Onabanjo University, Ago-Iwoye, Federal University of Agriculture, Abeokuta and Osun State University, Osogbo, Nigeria. He has also assisted Bells University of Technology, Ota in adjunct capacity. He later became an external examiner to LAUTECH, Ogbomoso, Covenant University, Ota, Nigeria, Obafemi Awolowo University, Ile-Ife, Nigeria and Tshwane University of Technology, Pretoria, South Africa.

His research efforts have gravitated around three central themes - Thermodynamics of materials, Fluid flow and Renewable energy, with major focus on biofuel. These efforts have resulted in over 60 scholarly works published both locally and in high impact international journals and over 30 national and international conference presentations. His research prowess was evident through one of his publications, which earned global ranking by ScienceDirect (Elsevier) as one of the "Top 25 most downloaded Articles" in Fuel. He has travelled far and wide and has won a number of grants. He had received invitation for research collaborations from Sanaa University, Yemen on a collaborative work on Jatropha with Taiz University to be sponsored through the British Council in Yemen. An invitation was also recently extended to him to be part of I-GIVE Initiative from University of Illinois at Urbana-Champaign.

To the glory of God, as at the end of 2014, more than 300 different research publications, authored by over 620 researchers across the globe, have made reference to his research findings and cited his publications! He is a reviewer to Elsevier as well as Taylors and Francis amongst other reputable publishers.

Professor Oguntola Jelil Alamu has held modest administrative positions in the University system. He was Coordinator, Mechanical Engineering Department (2007-2008) and Coordinator, Degree Foundation Programme (2004-2008) at Olabisi Onabanjo University, Ago-Iwoye. He served as Acting Head of Department of Mechanical Engineering, Federal University of Agriculture, Abeokuta(2008-2010), member, University Linkages and Partnership Group (2009-2010) and Associate Scientist, Biotechnology Group (2009-2010). At Osun State University, he served as the Acting Head of Department of Civil Engineering (2010-2011), Director of Academic Planning (2011-2014), University Desk Officer for Tertiary Education Trust Fund (TETFund) (2011-2014), Acting Dean, Faculty of Engineering (2013-2014) and Dean, Faculty of Engineering (2014-Date).

He is a member of University Senate and has served as member of key University committees including the Strategic Plan Committee, Admissions Committee, Staff Disciplinary Panel, Board of Postgraduate Studies, Committee of Provosts, Deans & Directors, Chairman, Senate Committee on Examination Results, Business Committee of Senate, Appointments & Promotions Committee and Development Committee amongst others. He has also served the Governing Council of the University on the Search Team for appointment of Vice-Chancellor in 2012. He is currently a member of the Governing Council of Osun State University.

He has bagged several awards and accolades. He received the Distinguished Personality Award from Ladoke Akintola University Muslim Graduate Association, Nigeria. He was also a recipient of Productive Visionary Leader of Action Gold Awards from Centre for Productive Visionary Leadership (Abuja, Nigeria).

It is worthy of note that Oguntola Jelil Alamu broke the record as the First Alumnus of LAUTECH to become a full Professor. He has just set the pace again as the First Alumnus of LAUTECH to meritoriously become Head of a University following his appointment as Acting Vice-Chancellor of Osun State University on the 3rd February, 2015.